New York is the undisputed heavy weight champ of the pizza world. Even Roma ain't got nothing on our pizza. Below we share some of the pizza that is the envy of the world. If you haven't had a slice at each one, you are not doing NYC right.
1. Grimaldi's
Address: Multiple locations (but flagship in Brooklyn)
Phone: (646) 484-5665
Yelp
Website
This is the pizza that made the Brooklyn Bridge famous. Our favorite is a large pie with garlic, onions and roasted red peppers. Best pie in NYC, hands down.
2. Lombardi's Pizza
Address: 32 Spring St, New York, NY 10012
Phone: (212) 941-7994
Yelp
Website
This is the New World's first pizza and it survived because it's amazing. An American institution
3. Prince Street Pizza
Address: 27 Prince St, New York, NY 10012
Phone: (212) 966-4100
Yelp
4. Juliana's Pizza
Address: 19 Old Fulton St, Brooklyn, NY 11201
Phone: (718) 596-6700
Yelp
Website
5. Paulie Gee's
This one above has VEGAN mozzarella!!!!! Delicious and cruelty free 🙂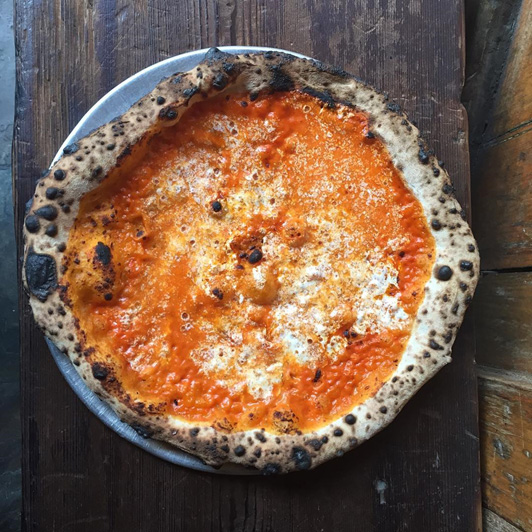 Address: 60 Greenpoint Ave, Brooklyn, NY 11222
Phone: (347) 987-3747
Yelp
Website
6. Bleecker Street Pizza
Address: 69 7th Ave S, New York, NY 10014
Phone: (212) 924-4466
Yelp
Website
7. Piacere
Address: 351 Broome St, New York, NY 10013
Phone: (212) 219-4080
Yelp
Website
8. L'asso Pizza
Address: 192 Mott St, New York, NY 10012
Phone: 212) 219-2353
Yelp
Website
9. Lucali
Address: 575 Henry St, Brooklyn, NY 11231
Phone: (718) 858-4086
Yelp
Website
10. Patsy's Pizzeria
Address: 450 Dean St, Brooklyn, NY 11217
Phone: (718) 622-2268
Yelp
Website